Saturday, September 16th at the LA County Fair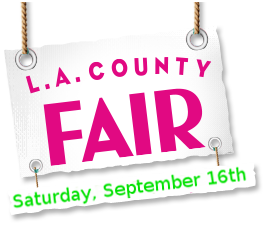 KaraokeFest™ 2017 is a Spectacular one-day event at the LA County Fair that features Karaoke and on the main stage a production where finalists from "Creme" singing competitions compete for Finalist Championship Titles. You won't want to miss our "Creme de la Kids" and "Creme de la Tributes" competitions where children and singing impersonators battle for top billing in each of their competitions. The event culminates in the "Creme de la Creme," where the very best of the best singers that Southern California has to offer compete for thousands in cash and prizes and the honor of being crowned Male and Female Vocalist of the Year. So warm up your vocal cords and sing your way to the LA County Fair!
Plan now for a day full of Karaoke fun on Saturday, September 16th where you can sing throughout the grounds and cheer on your favorite contestant in the competitions at the Plaza de Las Americas Stage.
Countdown to KaraokeFest™ 2015
Singing Competitions:
Complete this form if you own a club or restaurant that would like to host a night for the Qualifying Rounds for the Creme de la Creme - KaraokeFest Singing competition. The Club qualifying rounds start after Independence Day. There are 5 consecutive weeks of competitions then one club final.
"KJ of the Year"
Honors individuals from three sections of the Southern California region for outstanding performance, professionalism, and contributions to Karaoke.
This year to be considered for KJ of the Year honors, you will need to complete the registration form.
Voting
KJ of the Year voting starts in May - stay tuned for more details...
| | |
| --- | --- |
| | The name & logo for . |